For a short visit to Russia - no more than 2 weeks -
the best option is to get a tourist visa.
It is much easier and faster than getting a private guest visa.
A tourist visa can be obtained only on basis of  a Tourist voucher.
Booking confirmation from the hotel is not the basis for visa issuance.
What is a Tourist voucher?
This set of documents consisting of the Voucher and Confirmation.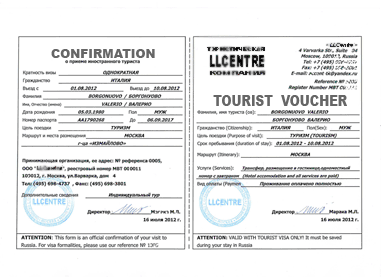 These documents are issued by the Russian travel agency
authorized for incoming tourism in Russia.
Recommended travel dates shall not exceed 2 weeks.
Because in this case only Voucher and Confirmation are enough to get a visa.
If you apply for a Tourist visa for a period more than 2 weeks,
the Consulate may request a confirmation of payment from the hotel.
Not reservation, but namely the payment of the hotel for the entire term of the requested visa.
Pay attention!
In your Tourist Voucher a hotel must be specified as place of accommodation.
You can not specify accommodation with friends or relatives.
If you have no hotel selected yet, you may choose some one on the Booking.com.
How to get a Tourist Voucher?
You can order and get your Tourist Voucher in 5 minutes
right now here on our website.
As a result, you receive a fully legal official document with a unique
number and all necessary statutory requisites.

In addition, in many cases, a copy of the voucher sent  by e-mail is enough  to obtain a visa
To order your Tourist Voucher you should
1) specify the e-mail, where we will send your Voucher
2) select citizenship of the tourist
and go to the Application form.
Check and confirm the accuracy of the data and then click CONTINUE.
A page will open with your Order number (ID) and a message that
confirmation of your Order has been sent to your e-mail.
On the same page you can pay for your order and get your ready
Voucher directly to your e-mail or download your ready Voucher (if use PayPal).
You can also download your ready Voucher at any time from your account on our website.

Check status of your order on this link.
How to log in to your account – see here.

You can pay and get your voucher later.

You do not need to create a new order.
Just log into your account and click the payment button near your order.